About Eagle Cap Chalets
Our facility has management on site 24/7. If we are not in the office, there is an intercom at the front door—we are within moments of answering. Our employees are well trained and are happy to help with any needs you may have. We'll even make restaurant reservations for you—just ask!
59879 Wallowa Lake Hwy
Joseph Oregon 97846
541-432-4704
Open 365 Days a Year- 24/7
Office Hours:
Memorial Day through Labor Day: 7:30am to 9pm Pacific Time
October to Memorial Day: 9am to 5pm Pacific Time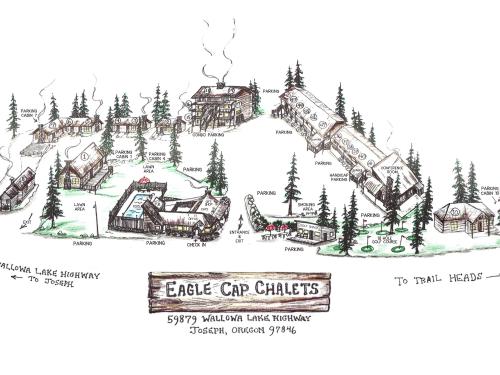 Here is a map of our property, drawn by one of our talented employees. All of the units are within easy walking distance of each other, and property features such as a spacious lawn, pool area, office, coffee shop, ice cream shack, and mini golf are centrally located.